Ian H. Baines
Chief Executive Officer
Baines has over four decades of experience in the restaurant and hospitality business, beginning as a classically trained Chef in his native England, followed by 25 years in Canada with ever increasing roles and responsibilities culminating into COO of SIR Corp restaurants. In 2004, Mr. Baines was actively recruited to join Brinker International where he served in various executive roles. He joined Darden Restaurants Inc. led the Smokey Bones brand as President before the sale to Sun Capital, where he continued for several years as President and CEO. He was recruited back to Brinker International in 2011 as Senior Vice President of Strategic Innovation. From 2013 to 2014, Mr. Baines served as President and Chief Executive Officer for Uno Restaurant Holdings Corporation. From 2014 to 2018, he served as President and Chief Executive Officer of Cheddar's Scratch Kitchen; leading the $780 million sale of Cheddar's to Darden Restaurants inc. in 2017; and continued as Brand President. In 2020, Baines joined as President and Chief Executive Officer of Anthony's Coal Fired Pizza & Wings. In 2021, Baines successfully led the sale of Anthony's to BurgerFi and now leads as Chief Executive Officer of BurgerFi International.
Michael Rabinovitch
Chief Financial Officer
Rabinovitch holds over 25 years of extensive financial leadership skills from best-in-class publicly held retail and distribution companies, high growth retail concepts, extensive international experience and has completed and integrated over 25 acquisitions valued at over $2 billion dollars during his career. For nearly a decade, Rabinovitch served as Chief Financial Officer of Mayors Jewelers, Birks Group Inc., a (NYSEAMERICAN: BGI), with 77 locations across the United States and Canada. He was also the Vice President of Finance at Claire's Stores, Inc. during their years of rapid expansion and contributed to their growth from 1,200 to over 3,000 locations in 10 countries during his six year tenure with the brand. Rabinovitch began his career with Price Waterhouse (now PwC). He is a licensed certified public accountant (inactive). Rabinovitch has both Bachelor of Science degrees in accounting and finance from Florida State University and is an advisory board member of the School of Accounting at both Florida State University and University of South Florida.
John Iannucci
Chief Operating Officer
Mr. Iannucci is a restaurant veteran having spent over 25 years in the industry. He has spent most of his time in full service casual dining brands such as TGI Friday's, The Cheesecake Factory, Logan's Roadhouse, BJ's, Coco's, Shari's, and has also led and operated in some of the top independent chains in the U.S. including Carmine's, Founding Farmers, and Virgil's. Currently Mr. Iannucci is Chief Operating Officer of BurgerFi International which includes Anthony's Coal Fired Pizza as well as BurgerFi.
Mr. Iannucci has spent the past 10 years in an executive leadership role specifically helping brands scale, drive operational efficiencies, create, and strengthen leadership teams, and drive their top and bottom lines, respectively. He holds a degree in F&B Management from Cornell University. He is the Treasurer of the board of directors to the Nevada Restaurant Association and sits on the board for Restaurant Leadership.
Stefan Schnopp
Chief Legal Officer & Corporate Secretary
With nearly 25 years' experience at leading international law firms Jones Day and Morrison & Foerster, as well as Sprint Corporation, Schnopp is a trusted advisor who provides legal advice balanced with business practicalities in counseling on complex strategic, transactional, governance, finance, and regulatory matters. He previously served as Vice President and Corporate Secretary at Sprint for nearly 12 years, where he helped lead the board of directors and executive team in its merger with T-Mobile and was the lead financing lawyer, where he raised over $60 billion in capital during his tenure. Schnopp holds a bachelor's degree from The Ohio State University, where he graduated Cum Laude, and a juris doctorate degree from University of Toledo College of Law, where he graduated Magna Cum Laude and Order of the Coif.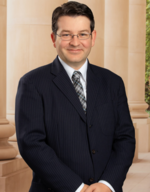 Karl Goodhew
Chief Technology Officer
Karl Goodhew joins as Chief Technology Officer of BurgerFi after serving as Director of Software Engineering at Macy's Inc., a $17 billion-dollar, Fortune 500 multi-brand retailer. He has also held positions at Home Depot, YellowPepper that was acquired by Visa, and JCPenney where he was responsible for all aspects of the 5-star rated consumer mobile apps. For almost a decade, Goodhew has served in leadership roles at various large retailers and start-ups. Goodhew recently helped launch Market by Macy's, led the cloud transformation for Macy's and Bloomingdale's stores, and built a diverse team of engineers focused on store selling and operations. At YellowPepper, Goodhew built a PCI compliant payment system and integrated the solution into Facebook Messenger. Goodhew has delivered cloud architecture solutions, successful digital customer experiences and secure financial systems throughout his career. Goodhew has a Bachelor of Business Administration degree in Management Information Systems from the University of Georgia.
Michelle Zavolta
Chief People Officer
Zavolta has over 20 years in human resource leadership experience in the restaurant industry and most recently served as Chief People Officer at Anthony's Coal Fired Pizza & Wings. While at Anthony's, she designed all of the company's people processes and developed and implemented a 501(c)(3), a needs based employee assistance fund aligned with the organization's core values. Prior to Anthony's Coal Fired Pizza & Wings, Ms. Zavolta served as Chief People Officer for Logan's Roadhouse where she was a contributor to one of the industry's most complex EBITDA recoveries and optimizations. Previously, she spent time in various leadership roles at Hooters of America, RARE Hospitality, and Ted's Montana Grill where she reversed high turnover trends. Ms. Zavolta is a cutting-edge people strategist, guiding human capital management as an asset to market growth and brand differentiation with a focus on employee retention, engagement and performance driven cultures. Ms. Zavolta has deeply developed perspectives spanning across the wide spectrum of cultures and U.S. locations ranging from 2,000 to 14,000 employees. Ms. Zavolta holds a Bachelor of Arts degree in Organizational Communication from Marshall University. She lives in Parkland, Florida with her husband Ken and their three children, Milo, Luca and Emme.