Carl J. Bachmann
Chief Executive Officer
Carl J. Bachmann is the Chief Executive Officer for BurgerFi International Inc., owner of leading fast-casual brand BurgerFi and the casual dining pizza brand Anthony's Coal Fired Pizza & Wings. Bachmann is an award-winning career restaurant professional with nearly 30 years of experience growing brands and helping them remain competitive. Throughout his career, he has served in various leadership roles for notable brands.
Prior to joining BurgerFi International, Carl Bachmann served as CEO and President for Smashburger, the Denver-based chain that specializes in custom burgers. In this role, he retooled the entire organization including rebuilding the leadership team, bringing back high quality food products, redefining the real estate portfolio, launching new food safety, service and cleanliness and restaurant condition initiatives, and relaunching the brand with a new marketing team and direction. Under his leadership, Smashburger experienced four years of system-wide same store sales growth along with expansion of both the corporate and franchise footprint. Bachmann initially joined Smashburger in 2017 as Chief Operating Officer before taking on the role of President.
Bachmann's executive roles also include Senior Vice President of Operations for Bertucci's, the Boston-based brick oven Italian concept. He joined the organization in 2014 to help turnaround the company. Under his guidance, the company experienced EBITDA improvements of more than 350%, helping the organization avoid bankruptcy.
In 1994, Bachmann joined casual dining chain Ruby Tuesday as Director of Operations. During his 18-year tenure, the brand grew from 80 restaurants to more than 1,000.
In 1998, Bachmann took on an entrepreneurial role with Ruby Tuesday and purchased the rights to the concept in Long Island, NY. As an owner and operator, he grew his portfolio to 10 locations and more than $26 million in annual revenues. During his 12 years of franchise ownership, Bachmann also supported the organization through franchise relations and support- assisting with recruiting, onboarding, training and supporting new franchisees. His team trained and developed numerous franchise teams in the U.S. and internationally.
Carl Brachmann studied Public Relations at Kent State University, where he was a member of the Delta Tau Delta Fraternity. His community endeavors include serving as Chairman of the Board of the Long Island March of Dimes for nine years. He has also served on the organization's state and national boards.
Bachmann has been recognized numerous times for his leadership. His accolades include being named Executive of the Year by Bertucci's, Franchisee of the Year by Ruby Tuesday (twice), and recipient of the Chairman's Award by Ruby Tuesday (multiple times).
Chris Jones
Chief Financial Officer
Chris Jones joins as Chief Financial Officer of BurgerFi after more than 17 years of specializing in equity research and serving as an analyst for various organizations including The Buckingham Group, Jefferies Asset Management, Lehman Brothers, Oppenheimer & Co. Inc., Telsey Advisory Group, and Union Gaming Securities. Most recently, Jones served as Chief Financial Officer of Odyssey Marine Exploration (Nasdaq: OMEX) in Tampa, Florida, where he led the transformation of OMEX from a deep-water wreck exploration and recovery company to a critical mineral exploration company. In addition, he has restructured OMEX's capital, developed and implemented new rigorous controls and protocols within the financing and accounting team, including the implementation of a new ERP system and SEC reporting structure, and represented the company at various investment conferences, investor meetings, and sell-side research queries. He also served as Assistant Vice President for Merrill Lynch from 2002-2004. Jones holds a Bachelor of Science from Boston University – School of Management, where he majored in both Accounting and Finance.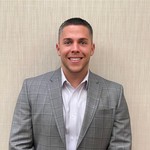 John Iannucci
Chief Operating Officer
Mr. Iannucci is a restaurant veteran having spent over 25 years in the industry. He has spent most of his time in full service casual dining brands such as TGI Friday's, The Cheesecake Factory, Logan's Roadhouse, BJ's, Coco's, Shari's, and has also led and operated in some of the top independent chains in the U.S. including Carmine's, Founding Farmers, and Virgil's. Currently Mr. Iannucci is Chief Operating Officer of BurgerFi International which includes Anthony's Coal Fired Pizza as well as BurgerFi.
Mr. Iannucci has spent the past 10 years in an executive leadership role specifically helping brands scale, drive operational efficiencies, create, and strengthen leadership teams, and drive their top and bottom lines, respectively. He holds a degree in F&B Management from Cornell University. He is the Treasurer of the board of directors to the Nevada Restaurant Association and sits on the board for Restaurant Leadership.
Stefan Schnopp
Chief Legal Officer & Corporate Secretary
With nearly 25 years' experience at leading international law firms Jones Day and Morrison & Foerster, as well as Sprint Corporation, Schnopp is a trusted advisor who provides legal advice balanced with business practicalities in counseling on complex strategic, transactional, governance, finance, and regulatory matters. He previously served as Vice President and Corporate Secretary at Sprint for nearly 12 years, where he helped lead the board of directors and executive team in its merger with T-Mobile and was the lead financing lawyer, where he raised over $60 billion in capital during his tenure. Schnopp holds a bachelor's degree from The Ohio State University, where he graduated Cum Laude, and a juris doctorate degree from University of Toledo College of Law, where he graduated Magna Cum Laude and Order of the Coif.
Karl Goodhew
Chief Technology Officer
Karl Goodhew joins as Chief Technology Officer of BurgerFi after serving as Director of Software Engineering at Macy's Inc., a $17 billion-dollar, Fortune 500 multi-brand retailer. He has also held positions at Home Depot, YellowPepper that was acquired by Visa, and JCPenney where he was responsible for all aspects of the 5-star rated consumer mobile apps. For almost a decade, Goodhew has served in leadership roles at various large retailers and start-ups. Goodhew recently helped launch Market by Macy's, led the cloud transformation for Macy's and Bloomingdale's stores, and built a diverse team of engineers focused on store selling and operations. At YellowPepper, Goodhew built a PCI compliant payment system and integrated the solution into Facebook Messenger. Goodhew has delivered cloud architecture solutions, successful digital customer experiences and secure financial systems throughout his career. Goodhew has a Bachelor of Business Administration degree in Management Information Systems from the University of Georgia.
Michelle Zavolta
Chief People Officer
Zavolta has over 20 years in human resource leadership experience in the restaurant industry and most recently served as Chief People Officer at Anthony's Coal Fired Pizza & Wings. While at Anthony's, she designed all of the company's people processes and developed and implemented a 501(c)(3), a needs based employee assistance fund aligned with the organization's core values. Prior to Anthony's Coal Fired Pizza & Wings, Ms. Zavolta served as Chief People Officer for Logan's Roadhouse where she was a contributor to one of the industry's most complex EBITDA recoveries and optimizations. Previously, she spent time in various leadership roles at Hooters of America, RARE Hospitality, and Ted's Montana Grill where she reversed high turnover trends. Ms. Zavolta is a cutting-edge people strategist, guiding human capital management as an asset to market growth and brand differentiation with a focus on employee retention, engagement and performance driven cultures. Ms. Zavolta has deeply developed perspectives spanning across the wide spectrum of cultures and U.S. locations ranging from 2,000 to 14,000 employees. Ms. Zavolta holds a Bachelor of Arts degree in Organizational Communication from Marshall University. She lives in Parkland, Florida with her husband Ken and their three children, Milo, Luca and Emme.
Cindy Syracuse
Chief Marketing Officer
Cindy Syracuse is the Chief Marketing Officer (CMO)for BurgerFi International Inc., owner of leading fast casual brand Burger Fi and the casual dining pizza brand Anthony's Coal Fired Pizza and Wings. Cindy is an award-winning dynamic marketing executive and visionary leader with over 25 years of restaurant and retail experience.
Prior to joining BurgerFi, as the Chief Marketing Officer for University of St. Augustine Health Sciences Cindy was responsible for the strategic re-branding of the University as well as launching new digital and social media campaigns. Cindy held senior marketing positions at renowned food and beverage companies, such as TGIFridays, Bob Evans and Burger King where she honed her expertise in the industry and created innovative promotions and advertising campaigns including the original The King ads for Burger King. In addition, she led the Restaurant Group at Zimmerman Agency where her clients included Firehouse Subs, White Castle, Boston Market and Ashley Furniture. She has a proven track record of driving revenue growth through innovative marketing strategies, customer-centric initiatives, and effective digital engagement. Her ability to connect with consumers on a deeper level and deliver exceptional brand experiences has earned her a reputation for excellence in the marketing industry.
Cindy holds a master's degree in communications from Florida International University and a bachelor's degree in English from State University of New York at Oneonta and continues to stay involved in the industry as a thought leader and speaker at marketing conferences, an educator as an adjunct professor and franchise partner of Firehouse Subs with 10 locations in the greater Dallas area.